Welcome to St. George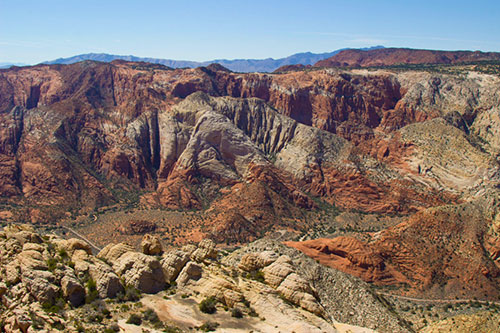 Snow Canyon - St. George
St. George, Utah was founded in 1861 by early pioneers who endured difficult conditions to build a beautiful city in the desert. With a diverse population of 80,000 St. George is rich in history, geography, culture and the arts.
St. George is located on I-15, 120 miles northeast of Las Vegas, Nevada, and 290 miles south of Salt Lake City, Utah. St. George is situated in a semi-arid desert and surrounded by cool mountain ranges and red desert buttes. In October, average daytime temperatures range between 70 and 80 degrees, with cooler mornings and evenings. At 2,800 feet above sea level, St. George has mild winters and draws part-time residents from many neighboring states and Canada.
St. George is conveniently located next to several vacation playgrounds such as the Zion National Park, Bryce Canyon, Kolob, the Grand Canyon, and Lake Powell, and plays host to hundreds of thousands of visitors each year.
Please visit the Activities page of this website for complete details about our community and the many recreational activities available.