Welcome to St. George & Greater Zion, the place we call home.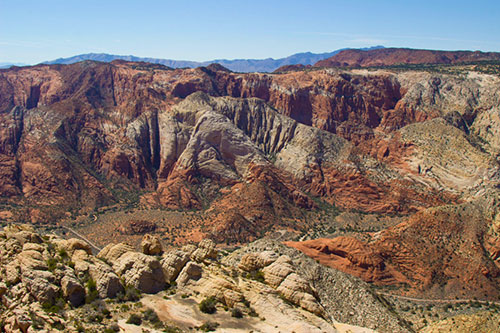 Snow Canyon - St. George
Founded in 1861 by early pioneers, St. George is rich in adventure, history, geography, culture and the arts. Home to over 85,000, our beautiful city was built from harsh, desert conditions to be the hospitable destination it is today.
St. George is located at the heart of Greater Zion in the Southwest corner of Utah. On I-15, it's 120 miles northeast of Las Vegas and 290 miles south Salt Lake City. Situated in a semi-arid desert and surrounded by cool mountain ranges and red desert buttes, average daily high temperatures in October average b around 70-80 degrees with cooler mornings and evenings.
Use St. George as your basecamp for exploring all Greater Zion has to offer. See our Activities page for more details about the activities that attract millions of visitors each year. Zion National Park is only the beginning.
Or take a day trip Bryce Canyon, Lake Powell, Grand Canyon or Lake Powell. But we're sure there's plenty to do within a golf swing of the Games. In fact, consider a couple extra days to "play."