WHAT: 2017 Huntsman World Senior Games Opening Ceremonies
WHEN: Tuesday, October 10, 2017
TIME: 7:00 PM
WHERE: Legend Solar Arena, Dixie State University
PARKING MAP: View The Parking Map
The opening ceremonies is truly a celebration of the founding principles of the Huntsman World Senior Games of fostering worldwide peace, health and friendship. With conflict so prevalent at home and around the world, it becomes more important than ever that we remember that it's possible to set aside differences and focus on what binds us together rather than what drives us apart. With that in mind, the theme to this year's ceremonies is Celebrate Peace. The ceremonies features a parade of athletes, singing, dancing, the cauldron lighting, fireworks and this year's inspirational special guest, James Lawrence, the Iron Cowboy.
James is an endurance athlete unlike any other. He's a walking experiment trying to discover the absolute limits of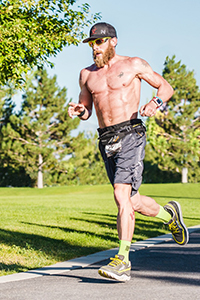 human fortitude. Born in Calgary, Alberta, Canada, James started his athletic career as a wrestler. In his younger years, the idea of endurance races was unknown to him. At age 23 he moved to Utah and in 2005 he ran his first race, a 4-mile fun run. He was disappointed when mothers with strollers passed him on the course and he knew he was capable of more. He took up the sport of triathlon, eventually racing Ironman distances. Not feeling like that was enough he pushed himself and set a couple of records for the Guinness Book of World Records in both half and full distance Ironman races.
James wondered if he had truly found his mental and physical limits. He suspected there was more.
He decided to do something so audacious that it pushed the boundaries of comprehension. He decided to do 50 Ironman races, in 50 consecutive days, through all 50 US States. His journey will make you laugh, cry and possibly squirm in your seats in disbelief. James shares with you the ups, the downs and the life lessons learned along the way. His remarkable story resonates with all, young and old. You won't want to miss this tale of adventure as he "Redefines Impossible."
The gates open at 6:00 pm and athletes will want to arrive at least by 6:45 pm so you can participate in the parade of athletes.
A free shuttle service to and from select parking lots on the Dixie State University campus and the stadium is available.